About Ronald Reagan Autographed Memorabilia & Collectibles
Historical Ronald Reagan Milestones
Ronald Reagan is one of the most iconic figures of the 20th century. Reagan was elected President of the United States of America in 1980 and served as the fortieth President from 1981-1989. As a member of the Republican Party he was elected twice as President of the United States and George H. W. Bush served as Reagan's Vice President. During his Presidency, Reagan dealt with various issues including the War on Drugs, tensions with the Soviet Union, and an economic policy that was nicknamed "Reaganomics".
Before becoming President, Ronald Reagan was elected the Governor of California twice, in 1966 and 1970. Prior to being involved in politics he was an actor and one of Hollywood's leading men. During Reagan's acting career, he starred in films such as Santa Fe Trail and Knute Rockne All American. In 1957, Reagan was awarded the Hollywood Citizenship Award at the Golden Globes and, in 1960, received a star on the Hollywood Walk of Fame. In addition to being an actor, Ronald Reagan also served as the President of the Screen Actors Guild. Reagan is one of the most important and legendary Presidents in United States history and will always be remembered and loved by Reagan's country.
Autographed Ronald Reagan product offerings are rare and unique items that will soon be sold out. Signed memorabilia and collectibles are wise investments that will surge in worth and value very soon. All of the autographed Ronald Reagan memorabilia and collectibles that we sell are guaranteed to be authentic, so never have any worries when shopping with us. Signed memorabilia and collectibles will look amazing displayed in any home or office.
Collecting Ronald Reagan Memorabilia
Ronald Reagan Photos
: Signed Ronald Reagan photos are great gifts for any memorabilia collectors that you know. Autographed Ronald Reagan photos will be treasured by whoever you give one to and will be proudly displayed in their home or office for all to see. A signed Reagan photo will also look terrific displayed in your own man cave too. Our autographed photos are rare and unique product offerings that are guaranteed to be 100% authentic.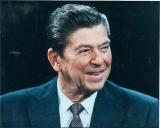 Ronald Reagan Plaques and Collages
: A signed Ronald Reagan plaque or collage will look wonderful displayed anywhere in your office, home, or man cave. Autographed Ronald Reagan plaques and collages are guaranteed to be authentic and are rare and unique pieces of memorabilia. Our signed plaques and collages are valuable investments that will soon sky rocket in worth. Purchasing an autographed Ronald Reagan plaque or collage for your memorabilia collection will never be a decision that you regret making.