About Leonard Nimoy Autographed Memorabilia & Collectibles
Historical Leonard Nimoy Milestones
Leonard Nimoy is one of the most beloved actors of all-time. This legendary actor is synonymous with the Star Trek franchise. Nimoy is best known for portraying the iconic Star Trek character Spock in both the Star Trek television series and the films. Leonard Nimoy was nominated for four Primetime Emmy Awards during Nimoy's life, three of them for Nimoy's portrayal of Spock. In addition to those accomplishments Leonard Nimoy was also nominated for numerous Saturn Awards in the categories of Best Actor, Best Supporting Actor, and Best Director as well.
Nimoy first portrayed Spock in the original television series of Star Trek. Leonard Nimoy played Spock on television for all three seasons of the show's run. Once the television series concluded Leonard Nimoy went on to play Spock in Star Trek: The Motion Picture, Star Trek II: The Wrath of Khan, Star Trek III: The Search for Spock, Star Trek IV: The Voyage Home, Star Trek: The Final Frontier, and Star Trek VI: The Undiscovered Country from the late 1970's to the early 1990's. When the Star Trek film franchise was rebooted in the 2000's Leonard Nimoy once again reprised Nimoy's role of Spock in Star Trek and Star Trek into Darkness. Over the course of Leonard Nimoy's career Nimoy portrayed one of the most legendary characters in history and Nimoy will never be forgotten by science fiction fans around the world.
Purchase signed Leonard Nimoy memorabilia and collectibles for your home or office now. Autographed Leonard Nimoy memorabilia and collectibles are rare and unique product offerings that are rapidly growing in worth. All of the signed Leonard Nimoy memorabilia and collectibles that we sell are guaranteed to be authentic. Autographed Leonard Nimoy product offerings are valuable investments that will make excellent additions to any memorabilia collection.
Collecting Leonard Nimoy Memorabilia
Leonard Nimoy Photos
: Autographed Leonard Nimoy photos are awesome gifts for anybody that you know who is a Star Trek fan. Signed Leonard Nimoy photos will be treasured by whoever you give one to and warmly welcomed into their memorabilia collection. Our autographed Leonard Nimoy photos will preserve legendary images of this icon that will look amazing displayed in any room of your home or office. Signed Leonard Nimoy photos are rare and unique pieces of memorabilia that are guaranteed to be 100% authentic. Purchasing an autographed Leonard Nimoy photo will never be a decision that you second guess making.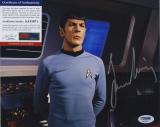 Leonard Nimoy Posters
: An autographed Leonard Nimoy poster is a rare and unique product offerings. The signed Leonard Nimoy posters that we sell are guaranteed to be 100% authentic, just like all of the other sports memorabilia and collectibles that we have available for purchase. Autographed Leonard Nimoy posters are great gifts for any of your friends or family members who are fans of Nimoy. Your friends and family members will cherish their signed Leonard Nimoy poster and will be eager to display their autographed Leonard Nimoy poster in their office or home. Shop our signed Leonard Nimoy product offerings today for your very own autographed Leonard Nimoy poster.