About Hillary Clinton Autographed Memorabilia & Collectibles
Historical Hillary Clinton Milestones
Hillary Clinton is a name that will be remembered until the end of time. Clinton has had one of the most incredible political careers in the history of the United States. As a member of the Democratic Party she was elected Senator for the state of New York twice and, in 2009, was appointed the Secretary of State and served until 2013 under President Barack Obama.
Clinton has also run for President of the United States twice, in 2008 and 2016. Even though she lost both elections, she did win the popular vote for the 2016 Presidential Election but failed to receive enough electoral votes to win the election, becoming only the fifth nominee to do so. Clinton has also served as the First Lady for the United States of America during Bill Clinton's Presidency from 1993-2001. Over the course of her political career Clinton has become an American icon and one of the most important political figures in recent history.
Signed Hillary Clinton memorabilia and collectibles are fantastic gifts for any of your friends or family members who are Clinton fans. Your friends and family members will treasure their authentic product offerings and they will not be able to stop thanking you for their autographed HRC memorabilia and collectibles. Signed memorabilia and collectibles will also look wonderful displayed in your own office or home. Purchase your autographed HRC memorabilia and collectibles today before we sell out.
Collecting Hillary Clinton Memorabilia
Hillary Clinton Photos
: An autographed Hillary Clinton photo is a valuable investment that is growing in worth every day. Signed Clinton photos are rare and unique pieces of memorabilia that will soon become your most prized possession in your memorabilia collection. Our autographed HRC photos are guaranteed to be authentic and guaranteed to look fabulous displayed in your home or office. Shop for your very own signed Hillary Clinton photo soon before we are completely sold out.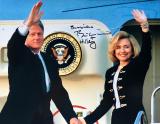 Hillary Clinton Magazines
: A signed Hillary Clinton magazine is an excellent gift for any memorabilia collectors in your life. Whoever you give an autographed Hillary Clinton magazine to will cherish their rare and unique piece for all of eternity. Autographed HRC magazines are guaranteed to be authentic and guaranteed to be an awesome addition to your memorabilia collection. Purchasing a signed Clinton magazine for your home or office is smart decision because they are increasing in value and worth every second.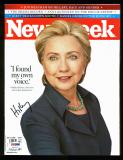 Hillary Clinton Plaques and Collages
: Autographed Hillary Clinton plaques and collages will be a great addition to any memorabilia collection. Our signed Hillary Clinton plaques and collages are guaranteed to be authentic and are rare and unique items that you will likely not find anywhere else. An autographed plaque or collage will look amazing displayed in any man cave, home, or office. Do not wait any longer and shop for your very own signed HRC plaque or collage immediately before our autographed product offerings surge in worth and value.